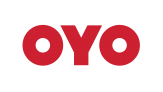 Customer Cyber Security Awareness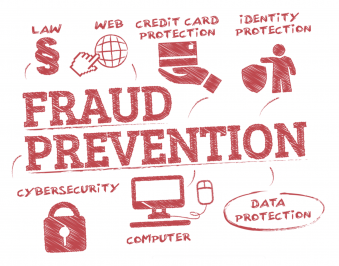 With online scams and frauds on the rise, it is imperative that you protect yourself and not fall victim to any such frauds. OYO Cyber Security team aims to educate you about the typical modus operandi of fraudsters who try to mislead, exploit or defraud OYO's customers and how you can safeguard yourself from such fraudulent transactions and scams. Issued in the public interest by OYO.
Getting The Basics Right!
First things first, let's learn the different tricks that these scamsters employ to lure you:




Fake messages on WhatsApp, Facebook Messenger or any other social media platforms, offering discounts or seeking payment for your booking with OYO.
Fake calls wherein the caller may disguise themselves as an OYO representative and force you into making advance payment for your confirmed booking
Phishing (Fake Emails) in an attempt to obtain sensitive information like usernames, passwords, and credit card details
Fake websites that may appear similar to the OYO website
Important things to always keep in mind:



DO NOT respond to fraudulent messages, calls or emails. Report such issues immediately by reaching out to OYO Official Customer Support number +91-9313931393 or dropping an email on ombudsperson@oyorooms.com.
DO NOT make any payments without verifying the veracity of any offer you might receive through messages/calls/emails
DO NOT pay if you receive a request to make payment to any private bank account number or UPI.



REMEMBER your confirmed booking can only be canceled upon your request. Don't fall prey to people threatening to cancel your booking in case of non-payment
ALWAYS make payments using only the official OYO channels like the official OYO website/mobile app OR the Pay at Hotel option.
PLEASE NOTE every official email from OYO Rooms will be sent from '@oyorooms.com' domain. Emails from generic ids (Eg. @gmail.com) are, in all probability, fake
Now, let's delve deeper into how you can protect yourselves from online scams, while still enjoying the fantastic stays we have planned for you.
Beware of Online fraud – learn how to protect your OYO Account!
Follow these security tips to keep your OYO account safe:
Your OYO account contains sensitive personal information like your name, phone number, email ID, relationship status, etc. Your OYO account is also linked to additional features like Wizard Membership, OYO Rupee, OYO Money and Gift Vouchers. If a fraudster gains access to your account, this information also stands the risk of being compromised.
While OYO has put in place stringent measures to ensure your account details remain safe and secure, it is important that you also take precautions to keep your account safe from fraudsters.
Here are some ways in which fraudsters may get in touch with you: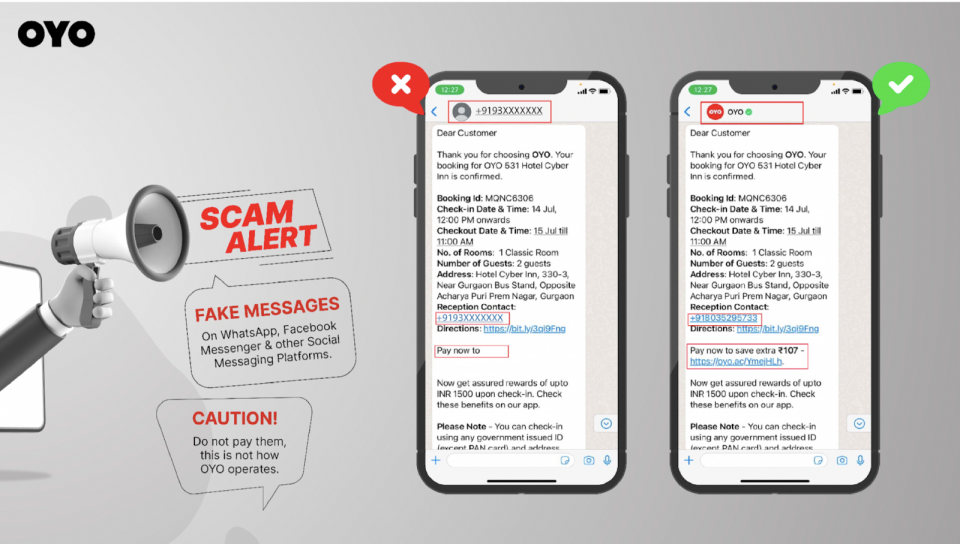 Fake messages on WhatsApp, Facebook Messenger or any other social messaging platforms. Fraudsters and cheats may use any of these familiar platforms to send you messages with your booking details, and ask for payment.
Picture 1: You might receive messages from unknown numbers, similar to the ones that OYO uses to update you on your booking status on Whatsapp. Do not reply to such messages. This is not how OYO operates.
Picture 2: OYO only sends you updates/messages from our Official +91 93139 31393 Verified Whatsapp Account.
For online payments only use the payment link provided by OYO Official Account.
Some OYO customers have reported receiving messages where they are asked to make advance payments for their bookings else, the booking will be cancelled

.

Please note once the booking is confirmed by OYO, no one can cancel it until requested by you.

Always

make payments only using the official mediums (Official OYO website/mobile app OR Pay at Hotel).

OYO executives/Hotel Owners will NEVER call or message (SMS/WhatsApp) you for payment collection.

You may receive IVR/recorded messages followed up by SMS/WA messages containing links for payment.

These payment links will always redirect you to the OYO website/Mobile app. Do not pay if you receive a request to pay to any Bank Account number or UPI.

Once your booking is paid for, you are not required to pay again.
What should you do when you receive fraudulent messages?
You are advised to not reply to these fraudulent messages. Please do not pay without verifying their authenticity with OYO, no matter how attractive the offered price is. OYO has no connection with these fraudulent senders, and we have no control over any information that you share with them. Any details that you share with these fraudulent senders that impersonate OYO can compromise your personal and financial information and may put you at the risk of further unlawful activities. Payments, once made to these accounts, cannot be retrieved or reversed, and you may be cheated of your hard-earned money.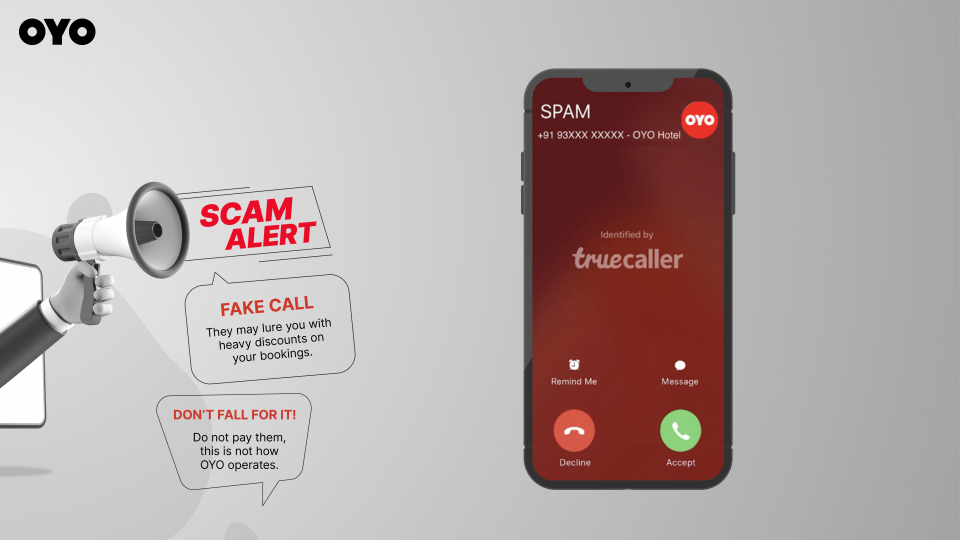 Fake Calls: Often, customers may receive calls from unknown numbers. They may try to lure you with heavy discounts on bookings. Beware of fake customer care numbers found via online search or fraudsters misusing OYO Logo & identity on True Caller or similar apps.
This is how such criminals operate:

To get a huge discount on the booking, you will be asked to make an advance payment, before even reaching the property.

They may share their personal UPI ID or Bank details, which misrepresents OYOs name or the name of the property you booked.

They may claim to be OYO employees or Property Managers and ask for advance payment.

They may threaten to cancel the booking if the payment is not made. Please note once the booking is Confirmed by OYO, no one can cancel it until requested by you.
Note that OYO has no connections to any such fake accounts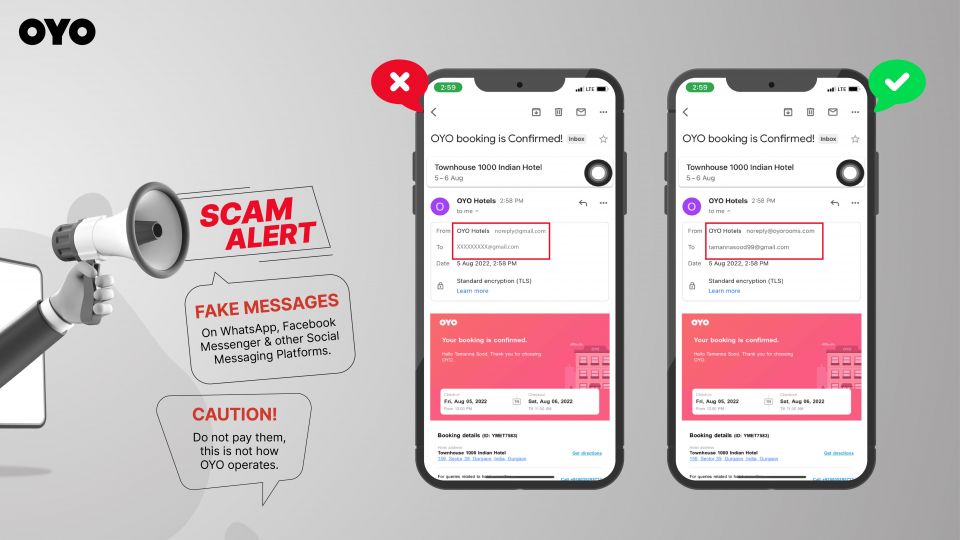 Phishing (Fake Emails): 'Phishing' is an attempt to obtain sensitive information such as usernames, passwords, and credit card details for malicious reasons by disguising as a trustworthy entity. Phishing emails may ask you for advance payment on your bookings, before even visiting the property, or send you fake links through which your personal and/or financial information can be obtained and used without your consent to carry out fraudulent transactions.
Picture 1: The mail is sent from a generic freely available email address (Eg. @gmail.com). This is not an official email from OYO Communication.
Picture 2: The mail is sent from OYO Rooms Domain "@oyorooms.com". This is an official email from OYO Communication.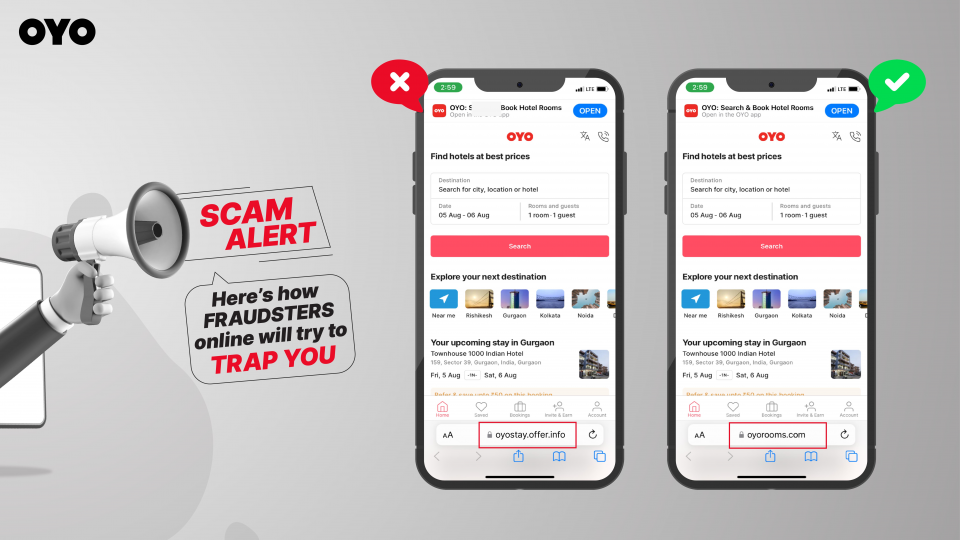 Fake websites: Fake websites may appear similar to OYO. Fraudsters may make illegal use of the OYO logo and artwork, or any other OYO trademarks or intellectual property to deceive and confuse you. Additionally, these fraudulent websites may have names and internet addresses (URLs)with the word OYO in them, for example, oyostay.offer.info, or oyo hotels.stay.info, among others. Please note that OYO has no affiliations with any such websites.
Where can I get reliable information about offers, deals and discounts on OYO?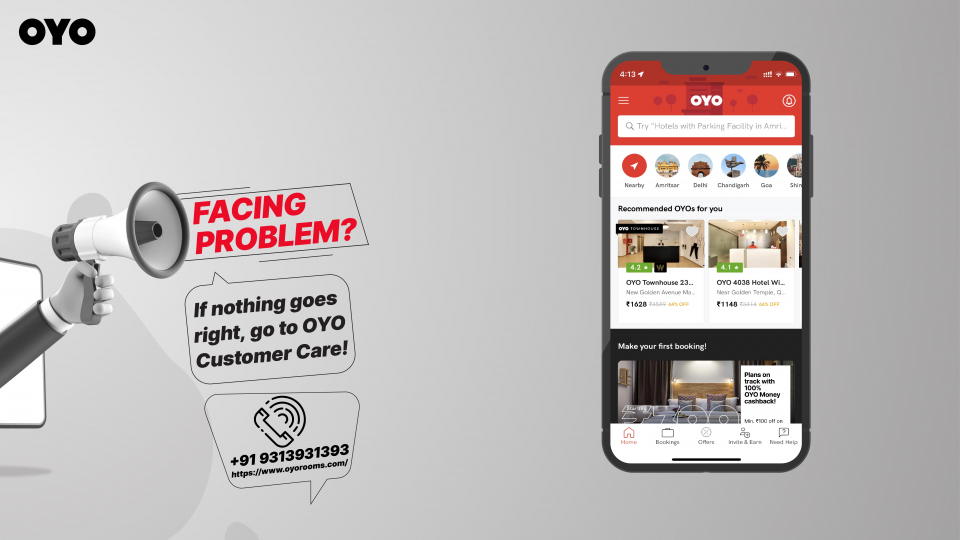 Of course, we know you want to make the most of our amazing deals, discounts and offers, but you must ensure that such offers are coming to you from an authentic source. Please visit https://www.oyorooms.com/ for all the latest news and announcements regarding all authorized offers, sales and discounts. Our website is the most accurate and reliable source of information. Even if you read about OYO offers on reputable news websites or social media pages, please verify the information by visiting the official OYO channels before planning your vacation with us.
Copyright © 2022. All rights reserved.